Advancing the Revelation of Truth
THE WAY TO MATURITY
This study is a supplement to the leaflet 'The application of The Mind of Christ.' BG 106.
The God breathed noun MATURITY is the Greek teleios [5046] and His verb is teleioO [5048] The KJV invariably translates this as 'the perfect' and 'to make perfect'. When writing to the church at Philippi, the apostle Paul challenges those amongst them who are 'mature' to practice a particular state of mind. In this passage the KJV translators proved an exception to their rule by using the English word 'mature'. Many passages use the word 'perfect' in reference to the character of God.
Although our subject is the maturing of the Christian, the following references include a limited number referring to the perfection of God. The references to the God breathed Scripture is therefore divided under these three headings:
1. The Christians need to understand and achieve maturity.
2. The characteristics of maturity.
3. The perfection of God
We are encouraged as Christians to take up the maturity of God. Our apostle Paul then encourages us to go further 'to gain Christ'. By Jesus Christ's example [Philippians ch.2]. Paul describes what such action meant to him [Philippians ch.3] by putting off all religious and worldly advantage. When mature, if we then wish to be identified with Christ in this way, we must seek and work out His personal guidance through prayer. [Philippians 3:15]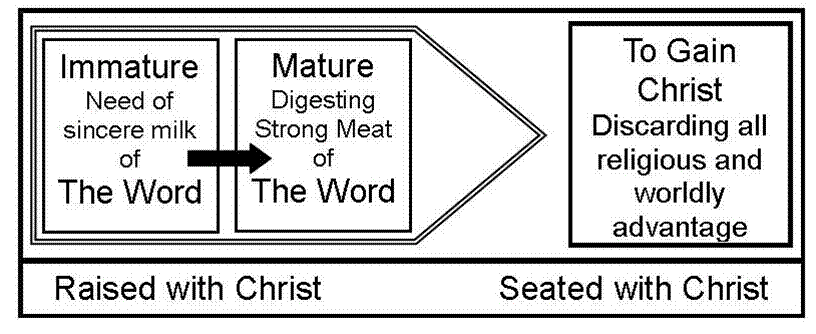 The Christians' need to understand and achieve maturity.
Epaphras …always labouring fervently for you in prayers, that you may stand mature and complete in all the will of God [Col 4:12] 5046
Christ in you, the hope of glory: whom we preach, warning every man, teaching every man in all wisdom: that we may present every man mature in Christ Jesus. [Col 1:28] 5046
The glory you have given me, I have given them, that they may be one, even as we are one. I in them and you in me, that they may be made mature in one, and that the world may know that you have sent me, and have loved them, as you have loved me. [John 17:23] 5048
God gave some apostles and some prophets, and some evagelists; and some pastors and teachers; for the maturing of the saints, for the work of the ministry, for the edifying of the body of Christ; till we all come in the unity of the faith, the body of Christ; till we all come in the unity of the faith, and of the knowledge of The Son of God unto a mature man, the measure of the stature of the fullness of The Christ: that we henceforth be no more children tossed to and fro, and carried about with every wind of doctrine, by the sleight of men, and cunning craftiness, whereby they lie in wait to deceive. [Eph 4:13] 5046
The characteristics of maturity.
For this thing I besought the Lord thee times, that it might depart from me. He said to me: My grace is sufficient for you; for my strength is made mature in weakness. [2Cor 12:9] 5048
Howbeit we speak wisdom among them that are mature: yet not the wisdom of this world, nor of the princes of this world, that come to nought. [1Cor 2:6] 5046
If therefore maturity were by the Levitical priesthood [for under it the people received the law] what further need was there that another priest should arise after the order of Melchisedec, and not be called after the order of Aaron? [Heb 7:11] 5050
Jesus said to them: If you would be mature, go and sell what you have, and give to the poor, and you will have treasure in heaven and come and follow me. [Mat 19:21] 5046
And above all these things put on love which is the bond of maturity. [Col 3:14] 5047
For when for the time you ought to be teachers, you have need that one teach you again which be the first principles of the oracles of God and are become such as those who have need of milk, and not of strong meat. For everyone that uses milk is unskilful in the word of righteousness; for he is a babe. But strong meat belongs to them which are of full age, even those who by reason of use have their senses exercised to discern both good and evil. [Heb 6:1] 5051
That which fell among thorns are they, which when they have heard, go forth and are choked with cares and riches and pleasures of this life, and bring no fruit to maturity. [Luke 8:14] 5052
No man hath seen God at any time. If we love one another, God dwells in us, and His love is matured in us. [1John 4:12] 5048
But whoso keeps His Word, in him verily is the love of God matured: hereby know we that we are in Him. [1John 2:5] 5048
Whosoever shall confess that Jesus is The Son of God, God dwells in him, and he in God. And we have known and believed the love that God has in us. God is love and he that dwells in love dwells in God, and God in him. [1John 4:17] 5048
There is no fear in love; but matured love casts out fear; because fear has torment. He that fears is not made mature in love. [1John 4:18] 5046
James 3:2 For in many things we offend all. If any man offend not in word, the same is a mature man and able also to bridle the whole body. [Jam 3:2] 5046
Let patience have her perfect work, that you may be mature, wanting nothing. [Jam 1:4] 5046
When for the time you ought to be teachers, you have need that one teach you again which are the first principles of the oracles of God; and are become such as have need of milk and not of strong meet. For everyone that uses milk is unskilful in the word of righteousness, for he is a babe. Strong meat belongs to those who are full age, even those who by reason of use have their senses exercised to discern both good and evil. Therefore, leaving the principles of the doctrine of Christ, let us go on unto maturity, not laying again the foundation of repentance from dead works, and of faith toward God, of the doctrine of baptisms and of laying on of hands, and of resurrection of the dead, ad of eternal judgement. And this will we do, if God permit. For it is impossible for those that were once enlightened, and have tasted of the heavenly gift, and were made partakers of The Holy Spirit, and have tasted the good word of God, and the power of the world to come, and having stumbled, to renew them again unto repentance. [Heb 6:1] 5052
The perfection of God
Though He were a Son, yet learned He obedience by the things which He suffered and being made perfect he became author of eternal salvation unto all them that obey Him [Heb 5:9] 5048
For it became Him, for whom are all things, and by whom are all things, in bringing many sons unto glory, to make the captain of their salvation perfect through sufferings. [Heb 2:10] 5048
For we know in part, and we prophesy in part. But when that which is perfect is come then that which is in part shall be done away. [1Cor 13:10] 5048
And be not conformed to this world; but be you transformed by the renewing of your mind that you may prove what is that good and acceptable, and perfect, will of God. [Rom 12:2] 5046
Be you therefore perfect, even as your Father,…. is perfect. [Mat 5:48] 5046
Every good gift and every perfect gift is from above, and comes down from The Father of lights with whom there is no variation, neither shadow of turning. [Jam 1:17] 5046
For by one offering He has perfected for ever them that are sanctified. [Heb 10:14] 5048
Certain of the pharisees came, saying unto Him Get you out and depart hence: for Herod will kill you. And He said to them, Go you and tell that fox, behold I cast out demons, and I do cures to-day and to-morrow, and the third day I shall be perfected. [Luke 13:32] 5048
Christ being come an High Priest of good things to come, by a greater and more perfect tabernacle, not made with hands, that is to say, not of this creation. [Heb 9:11] 5046
CONCLUSION
For the Christian, these notes describe in part the foundation of his/her maturity. During this present Administration of God's Grace, the apostle Paul tells those who are mature to move on and achieve the mind of Christ. He tells us the way that he needed to adjust his mind [Phil 3:4-14] and then encourages us 'if in anything you be otherwise minded, God will reveal even this unto you'. Have you sought God's advice ?