Advancing the Revelation of Truth
THE APPLICATION OF
THE MIND OF CHRIST
In the year 62ad, God removed Spiritual understanding from the Tribe of Judah, the Judahites. As a tribe they were no longer able to recognise their Messiah, nor could they therefore enter His kingdom.
Hearing you will hear and will not understand, and seeing you will see and not perceive because the heart of this people has become fat. [Acts 28:27]
All the previous Kingdom conditions and opportunities offered to the House of Judah, described in the work of the apostles, were halted and held in abeyance to recommence at a future time. However, proclamation of the Salvation of God continued, henceforth being offered to all mankind.
Godís Message of Salvation is commissioned, i.e. sent, to the nations. [Acts 28:28]
his traumatic change affected all the Christians in the churches of God which had been generated during the previous thirty-two years. Paulís letters written immediately afterwards to Timothy and Titus gave needed instructions regarding the revised order applying to believers. Godís Administration of the Kingdom in Israel was therefore superseded by His new Administration of Grace:
Since you have heard of the Administration of The Grace of God which has been given to me[Paul] for you. By revelation God made known to me the mystery which in other ages was not made known unto the sons of men. [Eph 3:2]
The apostle Paul describes the basis of this new Administration in the preceding passage. [Eph 2:13-22] It is upon this basis that Paul had come to realise the need for a deeper identity with His Lord and Saviour Jesus Christ. After thirty years of serving His Lord he came to recognise this need which he describes in the words Ďthat I may win Christí.[Phil 3:8]
Those things which were gain to me, I counted loss for Christ. yea doubtless I count all things but loss for the excellency of the knowledge of Christ Jesus my Lord, for whom I have suffered the loss of all things and do count them but dung, that I may win |Christ [Phil 3:7]
Paul recognised this need when considering the obedience and mind of Christ Himself. Paul describes this mind
Christ, Who being in the form of God thought it not robbery to be equal with God, BUT made Himself of no reputation, and took upon Him the form of a servant and was made in the likeness of men, and being found in fashion as a man, he humbled Himself and became obedient unto death, even the death of the cross. [Phil 2:6]
This mind is that which Paul needed to identify with when he said Ďto win Christí. He tells us to have the same mind [Phil 2:5]. By example he has described all those achievements which he regards as dung in order that the attitude of his mind would be acceptable to God. We need to examine ourselves to recognise the steps we need to take to gain this identity. We all have different, achievements throughout life. We can bring nothing to God to account for our goodness. The prophet Isaiah recognised this when he said
We are all as an unclean thing and all our righteousnesses are as filthy rags; and we all do fade as a leaf; and our iniquities, like the wind, have taken us away. [Isa 64:6]
Paul discarded all his achievements which blocked that humble and lowly mind of Christ, and describes the Godly gifts which he sought to receive by having that mind:
I count all things but loss for the excellency of the knowledge of Christ Jesus my Lord

To be found in Him, not having mine own righteousness which is of the law, but that which is through the faith of Christ, the righteousness which is of God by faith.

That I may know Christ

That I may know the power of His resurrection

That I may know the fellowship of His sufferings, being made conformable unto His death.

That I may attain unto the out-resurrection, out from amongst the dead.

I forget those things which are behind and reach forth to those things which are before.

I press towards the mark for the prize of the high calling of God in Christ Jesus.
These are the gifts which are particular to Paul himself. He lists them as the example of his mind, When seeking to apply the mind of Christ, we would not expect to exactly identify with those gifts which Paul sought.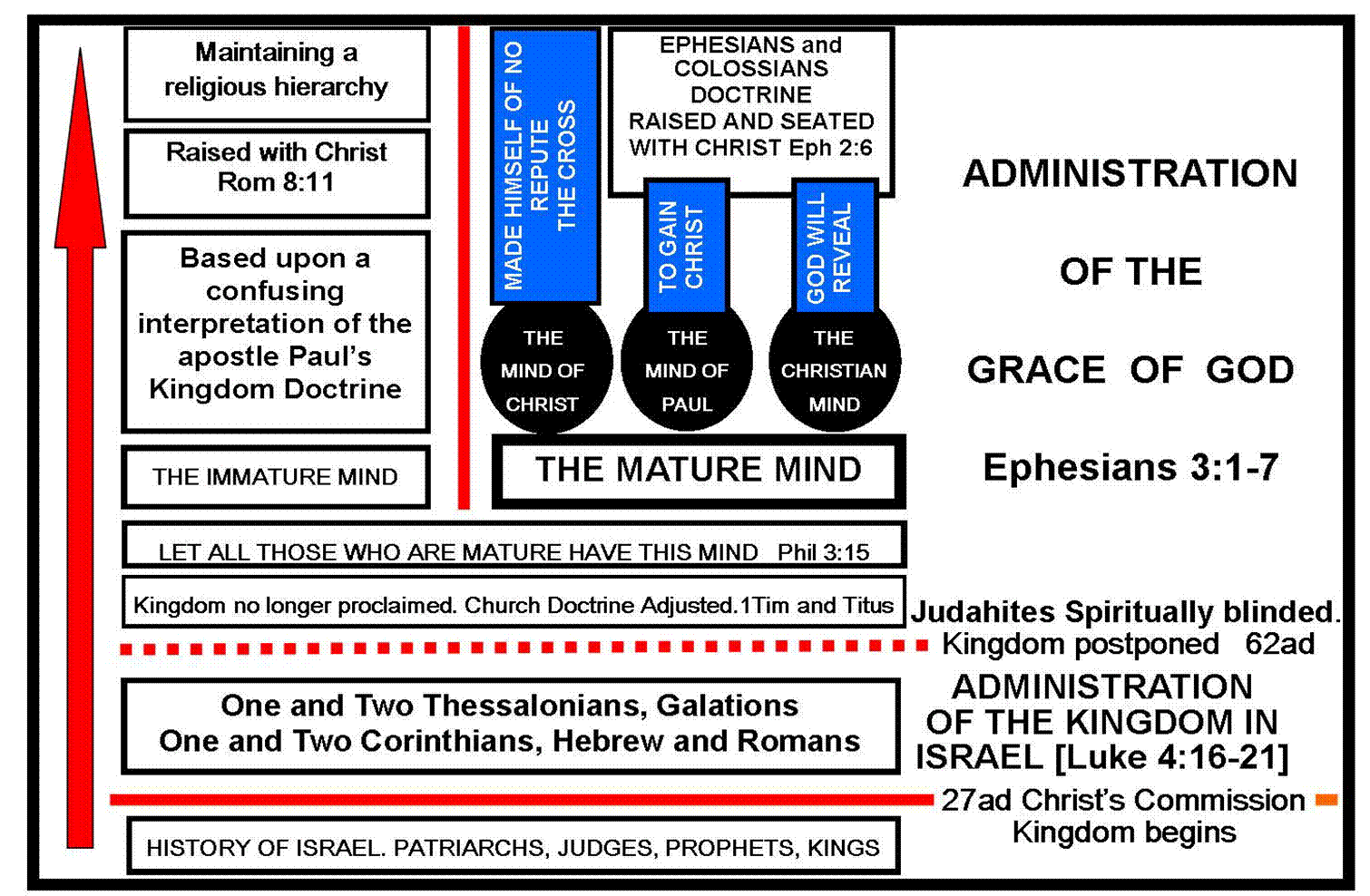 Paul encourages those Philippian Christians who are mature to have the same mind [Phil 3:16-17], Those Christians who wish to partake of the humility of Christ by discarding all earthly religious authority, place or position. If we should be otherwise minded, Paul tells us that God will reveal this to us. [Phil 3:15]
It is important to point out that there were immature Christians in the city of Philippi who would not see any reason to follow Paulís example, finding difficulty to grasp the reason for putting aside the hierarchal and mediatorial principle upon which the Kingdom church in Israel was established. Their immaturity holds them within the order described by Paul in his Kingdom letters, failing to grasp the individual character of Christís mind attainable through prayer and supplication. Paul proceeded to illustrate the extreme immature mind when he gives the following example:
Many walkÖ.who are the enemies of the cross of ChristÖ.who mind earthly things [Phil 3:18]
A study of the meaning of the Greek words ta epigeia ['earthly things' See BG 29] tells us that this refers to attempts to counterfeit those Spiritual gifts which were given to establish the churches of the Kingdom in Israel, now held in abeyance. During this present Administration of Godís Grace, those Christians who propagate these things, contrary to the mind of Christ, are to be destroyed. [Phil 3:19]
We need to give much thought and consideration to the means by which we can apply the mind of Christ. The example of Paul is extreme as we would expect having had the advantage of relating to His Lord face to face, because his works were unique, having been given a special Godly commission.
After the completion of his commission [2Tim 4:7] Paul, in Spirit, was compelled to apprehend the reason for which Christ had apprehended him [Phil 3:12]. He tells us that his need was to Ďgain Christí, i.e. to become identified with Christ in His humility. He had ceased to proclaim the Kingdom in Israel, causing many of those Christians in Asia, the churches of which he had established. to turn away from him. [2Tim 1:15] He therefore suffered the isolation which Christ had suffered because He came unto His own and His own received Him not.
Having this mind of humility, Paul tells us that he presses towards the mark for the prize of the heavenly calling of God in Christ Jesus [Phil 3:14]. Later, with this mind, Paul wrote to the Ephesians and the Colossians telling them:
God raises us together, and He seats us together among the most elevated in Christ Jesus [Eph 2:6]
Since you are risen with Christ, seek those things which are above where Christ sits on the Right Hand of God. [Col 3:1]
When Christ who is our life shall appear, then shall you appear with him in Glory. [Col 3:4]